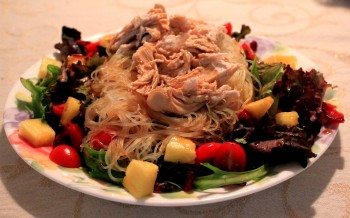 This recipe quickly became one of my favorites after I had a somewhat similar salad at Einstein Brothers Bakery a few years back. They stopped offering the salad shortly after I tried it–but by that time, I had already come up with my own version of this salad. My version only vaguely resembles Einstein Brothers' version–but this one is way better, by design. I took the best of what I ate there and extrapolated upon that.
This recipe for Asian Chicken Salad is a super-healthy salad, because it includes a nice variety of fruits, veggies, extra lean protein, and healthy fat. It's also a very filling–not to mention SUPER DELICIOUS–meal. Give it a try, and let me know what you think!
Ingredients for Asian Chicken Salad
Organic Chicken Breast, Steamed or Boiled, 4 oz
Rice noodles, dried– 2 oz
Better Than Bullion Base – Chicken, 4 tsp
Spring water (3 cups for cooking rice noodles; 2 cups cold for soaking rice noodles, once cooked)
Dried Cranberries, 4 T
grape tomatoes, halved, 1 cup
salad greens, 4 cups
fresh pineapple, cubed, 1 cup (see my post on how to cut a pineapple)
cucumber, cubed, 1/2 cup
fresh cilantro, finely chopped, 1/4 cup
Instructions for Preparing Dressing for Asian Chicken Salad
Dressing Ingredients
Virgin Olive Oil, 2 T
Lime juice, 2 T
Soy Sauce, 4 T
Preparing the Asian Chicken Salad Dressing
Combine ingredients.
Mix together briskly with a fork just prior to drizzling over salad.
Instructions for Preparing the Salad
Cooking the Rice Noodles
(This may be done in advance)
Bring 3 cups spring water to boil; reduce heat to simmer.
Add the Better Than Bullion, stirring until well dissolved.
Add rice noodles. Allow to simmer 1 minute, then stir gently. If noodles are still too stiff to stir, try again in one more minute.
Continue simmering and stirring noodles for about 3 minutes, or until the noodles are fairly soft and have turned translucent.
Turn off heat and immediately drain off chicken broth. (Broth may be used as an accompaniment to the salad or to another meal in the next day or so.)
Place cooked rice noodles into a deep bowl and add 3 cups cool or cold spring water. This will stop the cooking process and w ill help keep the noodles from becoming overdone. The water will also cool the noodles so that they won't wilt the salad greens when the noodles are added to the salad.
Preparing the Greens

In a serving bowl, toss together salad greens, cilantro, dried cranberries, fresh pineapple, cucumbers, and tomatoes.
Once well combined, pour onto a serving plate.
Top with the rice noodles and chicken breast.
Drizzle with dressing.
Enjoy!