This weekend, my 10-year-old son attended a birthday party at Laugh Out Loud (LOL) Stations—an  entertainment facility for older kids, tweens, teenagers, and (sort of) adults.
Noise Level
The first thing you will notice (you can't HELP but notice) is that the entire inside area is extremely loud. There's loud music, kids yelling, bouncing balls, and motors  for the fans and air pumps used to keep the inflatable attractions running. Considering the kind of attractions offered at LOL, none of this is surprising—but it is something that should be kept in mind if you plan on bringing along babies, young children, or other individuals who might be sensitive to high noise levels.
Customer Service
Two hours before the party was due to start, I called LOL Stations on the phone to find out if non-paying parents of party participants would be permitted to wait inside the facilities for the party to end. I ended up listening to a long prerecorded advertisement for the facility before being provided with a button to push to ask questions. Then I sat through another recorded advertising message before I was given to opportunity to leave a message. Apparently, someone would call me back as soon as possible—and as soon as possible turned out to be not before we had to leave to get to the party.
Upon arriving at LOL Stations at exactly the time stated on the birthday invitation, I took my son up to the front desk to check in. We were told that no one else from the party had arrived yet, but that we were more than welcome to wait in the front lobby area—which was equipped café-style with plenty of tables and chairs.
I would find out later that the parents of the birthday boy had checked in more than an hour earlier and that we had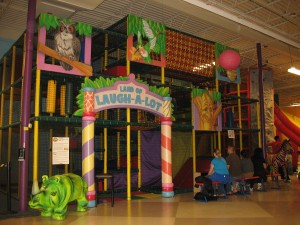 been misinformed by the customer service desk.
LOL Stations Attractions
Video Games–limited selection
Air Hockey–1 adult table, 1 young kids table
Pool Tables–2
Game / Ride Combinations–2 motorcycle video games with cycles that you sit on during game play
Shooting Hoops (basketball) games–1 working, 2 broken
Inflated Jumpers–lots of these
Laser Tag–limited facilities, but the only one in town in you're in Waldorf, Maryland
Balladium–kids line each of two walls of a small room and use air cannons to shoot balls at each other
Rock Climbing Wall
Spyder Climber–enclosed climber featuring multiple layers of flexible straps that you climb upwards through until you reach the top
Party Accommodations
The party we attended was an unhosted party. Amenities included:
An open-space party area equipped with tables, chairs, plates, cups, balloons, themed decorations (sports pennants, in this case.), LCD televisions (2), and a 12-foot pull-down projection screen. (Some hosted parties include a private, enclosed party room).
The televisions were tuned into ESPN, and had closed captioning tuned on—which is a good thing for anyone trying to watch what was playing, because with the noise levels in the facility, the audio coming from the speakers was audible, but indecipherable.
Food
Snack Bar (limited selection)
Pizza
Soda
Hot Dogs
Baked Cookies
Ice Cream Bars
Fun Factor
For communities with fairly limited  party facilities like ours, LOL Stations may be a good option—but an expensive one. The quality of the attractions is along the same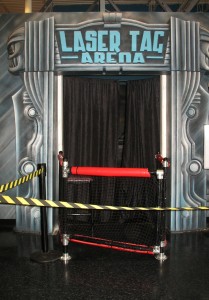 lines as Chuck-e-Cheese and Pump It Up stations, although they do have a few additional items that will appeal to kids who have outgrown the other establishments.
Value-wise, you'll get more way more  from a ticket to an amusement park like Kings Dominion or Busch Gardens. Of course, those amusement parks are two and a half to three and a half hours away, so aren't very convenient for a birthday party.
Things to Look Out For
Make sure that you get everything you paid for.
In my experience today, the LOL Station staff forgot to bring the party food. (They did bring the additional food and pitchers of beverage purchased by the birthday boy's mom, but never realized that they failed to bring the food included in the cost of the party.)
Supervision on Dangerous Attractions
The spider climber is very cool–but the rules say that only a couple of climbers can be inside at a time. And as I watched the climbers in action, I could totally understand. But as I watched, it would happen over and over again that the LOL Station employee would become detracted from her job of making sure only the appropriate number of kids went into the spider climber, creating a dangerous situation.  What's the solution to this, from a parent's perspective? Keep an eye on things, yourself, rather than assuming the facility employees will handle things appropriately.