Complaining about your Papa John's Pizza order will get you . . . free pizza, most likely. Let me explain how it happened for me:
A couple of weeks ago, I ordered 2 large pizzas from Papa John's–a Spicy Italian and a Works, both with light cheese. For this order, I decided to forgo the traditional hand-tossed crust for the thin crust.
My first disappointment came when I showed up to pick up my pizzas and was told that I wouldn't be given my normal cups of pizza sauce that I always get–because the thin crust doesn't come with dipping sauce, apparently. Since my son is used to having the dipping sauce, this discovery was less than convenient. And wouldn't you know, it was too big a deal for the Papa John's employee taking my payment to give us the sauce, unless we wanted to pay extra. And at 50 cents per one-half ounce, no thank you. (Like most people out there, I hate being nickel and dimed.)
When I got the pizzas home, I was in for my second (and third) disappointments–that one pizza was missing toppings and the other was so droopy that it couldn't be eaten.
Since I didn't feel like driving back out to the Papa Johns store, nor did I want to waste time sitting on-hold on the telephone, I went to their website and left customer feedback there.
What Happened After I Submitted My Complaint
I made my complaint through the Papa John's site on a Thursday night; I had a message from the regional manager on my answering machine on Monday when I got home from work. The manager said that he had been informed about my experience and for me to give him a call.
Because of my schedule, I returned his call the following week. And when I finally got through, the manager didn't remember having called me–and was fairly brusque, bordering on rude. I had to explain my problem with the pizzas again, pointing out that I was a frequent Papa John's customer and hadn't had a problem like this before. The manager seemed distracted during my explanation–frankly, I think he was doing something else other than talking to me. When I finished repeating my explanation, the manager was silent for a couple of seconds, then said, "Well, it's no problem for us to just replace your order. Were you planning to order pizza this evening?"
As it turned out, I wasn't planning to order pizza until the weekend, so the regional manager told me he'd call over to the local Papa Johns manager as soon as he and I got off the phone to let her know about the situation. Unfortunately, when I ca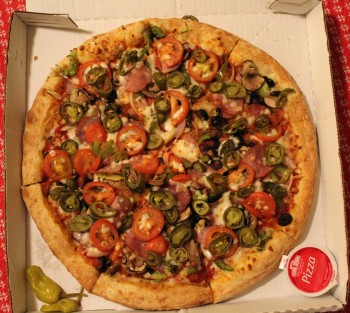 lled and spoke with the local manager two days later, she had no idea what I was talking about. Yup, you guessed it–the regional manager had not called her, after all.
Feeling awkward yet again, I went through the details of what had gone wrong with my pizza order. The local Papa Johns manager, whose name is Diana, DID apologize that the regional manager had not called me back, and offered an explanation that he had been covering for another manager that had been out for a week. Diana then said she had no problem replacing the order.
So after placing my order–the same one as last time, but with the traditional hand-tossed crust (because the thin crust didn't seem to work out too well)–I immediately left my house to pick up the order. It only took me 15 minutes to get there, and my pizzas were already out of the oven and waiting for me.
I did not see Diana at the store, but the cashier obviously had been told about my order. She even offered me spice packets–which they normally charge for. Obviously, this isn't a big deal–but it did tell me they were making an effort. And when I popped open the pizza boxes to have a look at the pizzas before I leave, they were the most gorgeous pizzas I'd ever seen–more evidence that this Papa John's had made a special effort to make me happy. (See photos)
You'll see from the photos that the cashier added spice packets and lots of extra yellow peppers (even though I had told the cashier it wasn't necessary), both of which Papa Johns would normally charge for.
Nindo Mom's Final Call
If you have a problem with your Papa John's pizza order, you should absolutely let Papa John's know.
If you notice the problem before you leave the store, Papa John's policy is to remake your pizza on the spot. In this case, you'll have earned yourself an additional 20-30 minute wait while your new pizzas cook. In this case, you'll likely receive no discount off the price of your order. (Yes, this scenario has happened to me before.)
If you notice a problem with your pizza after you get home and you report the problem through their website, Papa John's policy is to replace your order–ie, give you free pizzas of the same kind that you originally ordered.  With this option, you'll should get a call from the regional manager, then you'll likely have to speak with the local manager, as well.
Whether you notice a problem with your pizza right away or after you get home, it's beneficial to speak up. Reporting the problem later does seem to benefit you more because you're actually getting free pizza out of the deal–rather than standing around waiting for them to remake your order on the spot.
Personally, I would prefer that my pizza be made correctly the first time around. But since mistakes happen to everyone–Papa John's, included–I think that Papa John's policy of replacing a pizza order after the fact with a correct order is a good one. And getting that messed up order replaced doesn't seem to be too much of a problem–at least, it didn't in my experience. But it may take a few phone calls on your part, as well as you explaining the problem a few times.
Based on this experience with Papa John's, they remain my favorite chain pizza shop.
Papa John's Review Ratings:
Willingness to deal with problem: 5 stars
Efficiency at dealing with problem: 3 stars
Easy-quotient, from a customer's perspective: 3 stars
To Submit a Complaint to Papa John's About an Order You've Placed:
Try the following number: Papa John's Complaint Phone Number / Website Ordering Assistance: 877-547-PAPA (7272)